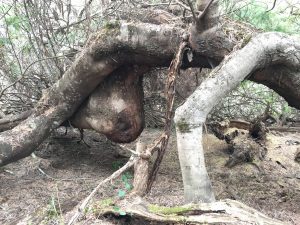 My friends, Diana & Michael Melchizedek came for a visit, and we did a ceremony in this acacia grove yesterday morning. (This is part of one acacia tree with obvious dragon energy.) I was so delighted and honored to have them here. They are wonderful people, beautiful examples of the Divine Feminine and Divine Masculine in full partnership, AND Michael has been working with dragon energies for a long time.
In fact, he has been called to release the dragons, and thought he'd be going to New Mexico to do it. What serendipity to find he would be doing it here in California!
The day before, I took them to meet the other Spirit trees I work with, and they especially connected with Great Grandmother Redwood as Divine Mother.
Yesterday in ceremony, we called for the restoration of the dragons as allies and protectors of the Divine Feminine, then released the dragon energies that had been stored in these trees, and others on the land here to take their places in the spiritual order creating the Great Turning.
Many people have been working with dragon energies around the world as we did today. They have a crucial role to play as guardians and protectors, and we were delighted to do our part in bringing back this aspect of dragons.
Have you had experience with dragon energies recently? I'd love to hear about it.
Summer and early fall are perfect for healing retreats on the land here.
You can have the experience of working with this tree, and Great Grandmother Redwood in person.
The trees have individual messages and healings for each person.
To learn more about having your very own 
Soul Healing With The Trees Sacred Retreat Day
, and watch a testimonial from a deeply happy Retreat Day client, 
CLICK HERE. 
Photos below: 1. The Altar     2. Diana and me with Sacred Cacao     3. Diana and Michael
Blessings for your reconnection or deepening connection with Dragons –
Ariana