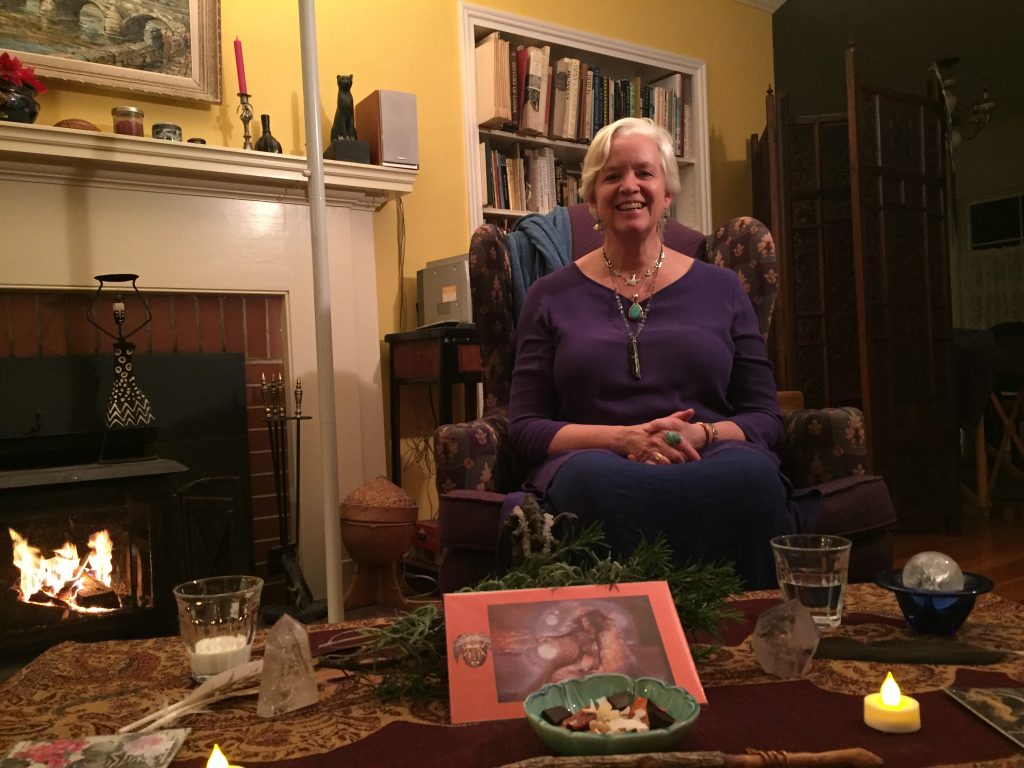 As part of my Level 4 Dove Oracle Priestess training, I gave a public oracle reading. I've been training for several years to bring through information from higher and deeper guidance, Spirit, subtle realms, etc. I do this by filtering the information through my own Divine Self, rather than being "taken over" by another being.
We had a lovely group of 10 attendees, which made our circle 11 – an auspicious number.
The very interesting questions asked are below, along with some brief parts of the answers. The entire recording is available HERE. (1 hour and 11 minutes – it was a night of elevens…)
Is there something being developed in all humanity right now?
The short answer is YES. The work we are each doing is helping the collective, and more…
How can we assist Earth in this crucial time?
By understanding that we are not the most important beings on Earth, and more…
What is the highest way for us to view the effects of the digital world in children?
This was fascinating, and perhaps the most valuable answer of the evening, so I've extracted more here. The guidance was to send energy, love and intention to elevate human consciousness into the internet. Teach children consciousness and their role in making sure this technology is used for the highest and deepest good. Teach them to detach when they see/feel this tendency to promote disconnection. Each of us, in interacting with the internet, are asked to hold the intention of love, partnership, connection, the oneness of all. It is possible for us to affect the internet this way. Teaching the children is very important. Conscious awareness. Teach them to listen to their bodies. Teach them to notice the feelings – tightening in the gut, closing down in the heart, feeling grief – those are the times to disconnect, walk away, or deliberately shift and return love into the system. And more…
What is the role of chaos, the abyss, the dance with uncertainty in this work, and the acceptance of limits?
The uncertainty IS IT. Discernment is essential between creative chaos and chaos that harms, and more…
How can we help those who value an order that is dead? Is there a way we can help people accept creative chaos and be comfortable letting go of a deadened order?
This moved into a practice I've been given by my guides of repatterning the energy of the 3rd Chakra from domination to partnership, and harmonizing all chakras with this new energy. We then sent this energy of partnership out to the collective. Listen to do this for yourself…
When do the guides see the manifestation of our work to elevate consciousness?
The guidance was for us to come into a different awareness of time, to let go of our current understanding of what time is, and the idea that things happen linearly. The shift is coming into form in multiple dimensions and times. It is not yet understandable by humanity. And more…
How can we collectively and individually best serve the most optimal timeline creation, knowing what we put in to collective consciousness makes a difference in the collective?
You cannot imagine what is optimal. There is so much that is far beyond what you can imagine. Have faith and continue to use your discernment to do those things that feel most aligned for you. Always come back to love. If it is not of love, it is not for you to do. That is the simplest we can make it for you. And more…
What is the nature of time?
I was shown the image of a comet with a tail. Many fascinating things came through as we continued to ask questions. Listen for an explanation of how the comet image helps explain time, that time is not linear, non-localities and more…
My deep gratitude to those who attended, to my dear friend Kathryn for hosting the event, and to the guides and Spirit allies for the information, healing and grace they provided.
I am available to bring through information and healing for YOU in private sessions. These are one-hour online video sessions on Zoom, and are available at a Holiday Special price of only $97 (normally $197) during December. CLICK HERE TO PURCHASE, and I'll contact you to schedule. YES – you can purchase in December and schedule in January.
Blessings!
Ariana