My name, Ariana, is a spiritual name I took in my 30s. When I interviewed Riane Eisler recently for my Reclaiming The Wise Woman Elder – for the healing of Earth summit, I told her the story.
I told her because SHE was really responsible for me taking the name.
Her book, The Chalice and The Blade, was a transformational book for me. Reading about ancient European cultures that had worshipped the Great Goddess, in which women held power in equalitarian societies, and war was almost non-existent, was a revelation.
Learning her language of the Dominator paradigm vs. the Partnership paradigm was liberating and affirming.
We are not doomed by human nature to use violence! Cultures existed in our past where women and men were in partnership with each other and with our Earth! We can do it again, and even better.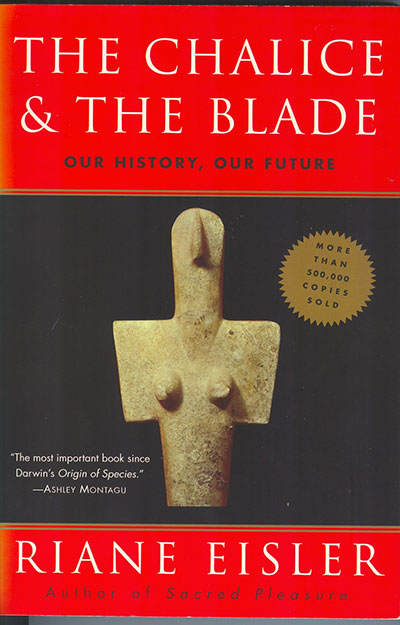 The Chalice and The Blade reconnected me with the Great Mother Goddess, upgraded my perception of humanity, gave me a new, more useful language to use, and a greater determination to create partnership on our beautiful Earth.
As I became more spiritually oriented to the Great Mother, I felt called to take a spiritual name.
One day, in 1989 or early 1990, I went to San Francisco with the man who became the father of my children. We went into a "new age" bookstore, and up on a shelf, I saw a book of goddess names.
There, on one of the first pages, was the name, Ariana – defined as an ancient name of the Great Mother.
And so, I took the name – as a symbol of my inner divine feminine, as an honoring of the divine feminine as creator and goddess, and as a name to live into. (Still working on that part.)
If you haven't read The Chalice and The Blade – do it. It has changed lives and hearts all over the world.
Watch for the announcements about the Reclaiming The Wise Woman Elder – for the healing of Earth summit. You'll be able to sign up starting in mid-August. Can't wait for you to see and hear these interviews!
Blessings!
Ariana
​​​​​​​
PS – If you'd like to have a session with me to get guidance from the Great Mother, I have a special offer for you.
Your FIRST Channeled Reading & Healing Session is $100 off! This is a one-hour video-conference private session with me.
"The healing session I had with Ariana was a life-changing experience, truly extraordinary in every way. She was able to go directly to the source of my challenge and not only assisted in clearing and transforming obstacles I have had for a long time, but also I received unexpected and remarkable gifts for future development as well as exercises to continue healing on my own. I am very grateful to have had the opportunity to receive Ariana's intuitive and loving gifts.." – Giselle Whitwell
Add to cart, and at checkout, enter the Promo Code 100GIFT to receive your session for only $97.
Click here to purchase your session. I'll contact you to schedule.
Join the conversation on Facebook at: Healing The Soul's Voice