Dear ones –
For those of us whose fathers have passed on, Father's Day can be a lonely day.
This photo is me with my Dad in the summer of 1973 (or '72).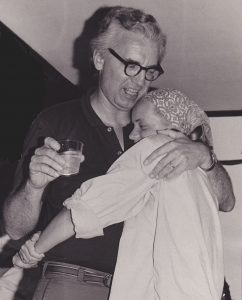 He was 6'4″ – with a charismatic and commanding presence. He loved a good argument with friends, as loud as possible. He was passionate about social justice, civil rights and helping others.
He loved all 5 of us kids fiercely, but his love included always trying to make us better, so we often got the message we weren't good enough.
He passed on just before I turned 40, and never got to meet my younger son. It was disorienting – like an anchor of my existence was gone.
When I began connecting with higher guidance, though, I found him there, and he is one of my most important Spirit Guides. I now know I have his total love and acceptance – and that I always did.
As we celebrate Father's Day, imagine what fathers and mothers at our border are feeling as their children are taken from them. Imagine not knowing if you will ever see your child again. Imagine not knowing if they are being cared for, if they are sick or well. Not being able to do anything to take care of them, help them. Not being able to protect them.
One father from Honduras has already committed suicide after being separated from his children at our border.
How is it that this is my country doing this? I am sick at heart, sick to the bottom of my soul.
On this Father's Day, I ask – how can any father inflict this kind of pain on another father? How can any father or mother inflict this trauma on innocent children? This kind of trauma carries lifelong effects.
I can imagine how my father would respond. How he would ROAR. How he would find something to DO. He marched with Martin Luther King, Jr. He served on committees on racism. He worked to help disadvantaged high school kids (most of them black) to get into college. We protested the Vietnam war and went to the march on Washington. My father would not sit back and stay silent.
What kind of people could create and carry out this heinous policy?
Oh, we humans are SO good at rationalizing things, at compartmentalizing, at locking feelings away, at being unconscious.
The truth is, any of us can do this.
It takes work NOT to do this kind of thing. Not to make "the other" the source of all the problems in the world. Not to decide certain people aren't really people. Not to justify all kinds of awful actions we do with flimsy reasoning. Not to consider "me and mine" much more important than anyone else.
It takes work to be responsible for our thoughts, feelings, and actions. To cultivate compassion. To expand our loving to all people, to all beings on Earth, to Earth, herself. 
It takes CONSCIOUSNESS and vigilance and ongoing inner healing and inner work.
I'm exhausted by the sheer volume of excrement coming out of this administration – corruption, environmental degradation, venality, grifting & self-dealing, undercutting democracy and our free press, attacking allies and making friends with dictators. It just goes on an on.
But this taking of children from their parents is another level of bad. This is actual evil.
If you are on my email list, you are a conscious person who is doing their inner work on an ongoing basis. So, I ask you all to please, jump in. Get active and DO some things. Whatever you can. March, make phone calls, and make more phone calls. And march again. Organize. Donate. Speak up and speak out.
And pray. Pray for the spark of consciousness in all those who are doing these awful things to expand. Pray that they come to awareness and understanding. Pray for them to return to their humanity. Pray with compassion. Pray to send love to all those hurt by this (which includes those doing the policy). 
And send love to all of us who are doing the work to create the positive change we need in these times. There are many and many of us all around the world. Realize that we can connect with each other in Spirit. That we ARE connected through our collective consciousness. We Spirit Warriors are everywhere, and we will prevail.
Blessings – Ariana
---
ON THE SOLSTICE Join our 1st Ever (that I know of) for celebrating Solstice as a Global Unity: connecting sisters in the Northern & Southern Hemispheres!
My colleague DeAnna L'am, myself, and a few other Priestesses, are going to unite what are usually perceived as "opposites." When SUMMER begins in the Northern Hemisphere, WINTER begins in the Southern!
We are celebrating together!
On the Solstice – June 21, 2018 at Noon Pacific we will be broadcasting Live from BOTH Hemispheres with Solstice messages, inspiration, and insights.
CLICK HERE TO reserve your Free seat for our Solstice Ceremony.
I look forward to being in this beautiful ceremony with you!
---
Join me for Wisdom Wednesdays – free Facebook Live series on my Page – Healing The Soul's Voice. Join the email list to receive reminders, direct replay links, info on how to submit your questions, and the Claim Your Wisdom Checklist. SIGN UP HERE.